Blog
Clutch.co Identifies ClientFlo as a Top PPC Agency!
Since establishing in 2014, ClientFlo has consistently provided world-class performance marketing services for our clients. As we help businesses grow customer by customer, click by click, we've been able to become a leader in the digital marketing industry. With that being said, Clutch.co has identified us as one of the top Google AdWords PPC agencies and Bing PPC agencies.
Located in the heart of Washington D.C., Clutch is a B2B ratings and reviews agency dedicated to uniting businesses with an agency that can resolve their precise needs. The company analyzes agencies and providers based on client reviews, types of services offered, and quality of work. Part of this process included Clutch analysts speaking directly with our clients to gain extensive knowledge about our functionality, transparency, and attention to detail. Shared below is one of the numerous client reviews they gathered. This provides potential customers who may be looking for a high-performing digital marketing agency with a quick, yet thorough, glance at a client's experience with us on a project.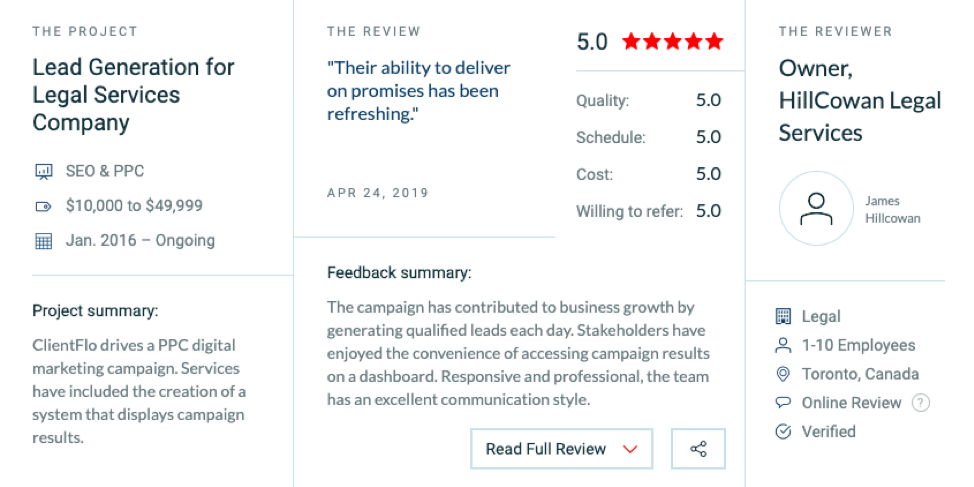 In addition to being recognized on Clutch, our outstanding work has been shared to the firm's sister-sites: Visual Objects and The Manifest. Visual Objects is a platform designed to help prospective clients envision a future project by showcasing an agency's portfolio of previous work. For example, digital marketing agencies in Canada, like us. The Manifest, on the other hand, aids businesses in simplifying their search for their next partner through publishing industry reports, state-of-tech news, and how-to guides. Here, you can find us listed with other PPC companies.
It is unquestionably a privilege to have been identified by Clutch as one of the best digital marketing agencies. We want to thank them for taking the time to analyze our practices, as well as our clients for consistently picking us. As we keep evolving, we hope to continue helping businesses grow through our strategic marketing methods.
To setup a free strategy session with one of our PPC specialists, contact us today, we would love to chat with you!