Blog
Clutch Selects ClientFlo For Top PPC Management Firm in Canada!
Last Thursday, Clutch published a report recognizing ClientFlo for their excellent performance as a leading PPC management firm in Canada. As a company, we are inspired by our history and surroundings, and always strive to produce work that is meaningful for our clients. That said, we are excited to announce that our efforts have led to this recognition alongside many other reputable firms!
Ratings and reviews have never played a stronger role in the buyer's decision making process, and Clutch has managed to leverage this trend in order to improve the process for how businesses connect with services and solutions partner. Companies on Clutch range across many different segments, but they are all evaluated on the strength of their customer service, market presence, and work portfolio.
The companies that rank highly according to Clutch's proprietary research methodology are featured in a Leaders Matrix—a visual summary that allows a user to efficiently identify a company that best fits their project and budget. ClientFlo is honored to be at the top of the list!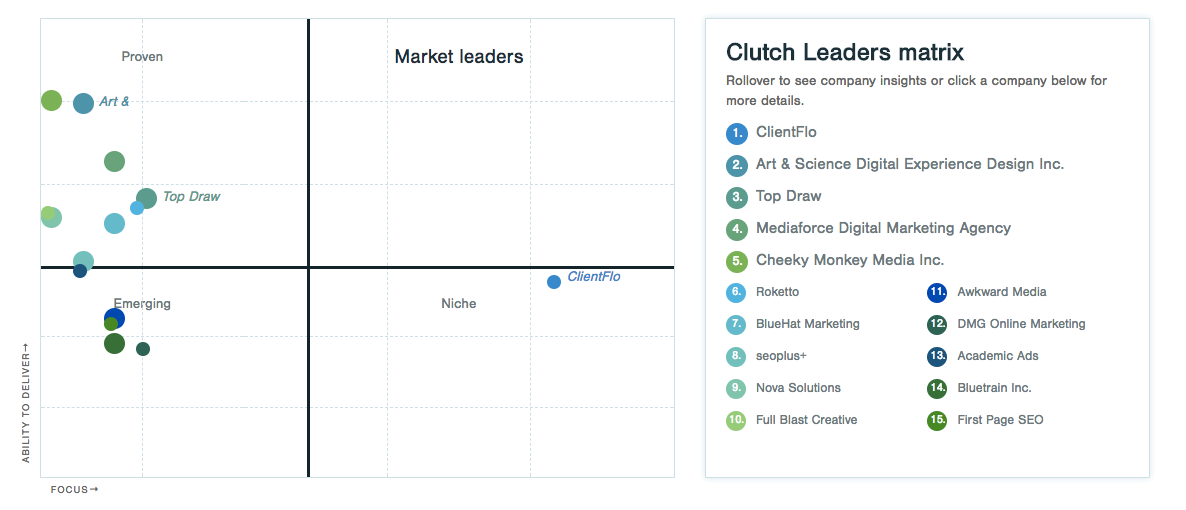 This would not have been possible without our clients whose insights show our dedication to the marketing craft! To read more reviews and learn more about our services, visit our Clutch profile.